Glennon Brothers celebrate two special achievements
12/07/2012
Longford timber processing firm, Glennon Brothers, celebrated two long standing members of the team at a recent function in Longford Rugby Club.
The 2 guests of honour on the night were Ireland and UK sales representative Aidan Curran, who recently retired from Glennon Brothers after 27 years with the company, and Joe McLoughlin, who celebrates 50 years in a number of different roles at the Longford plant in 2012.
Speaking on the night, Mike Glennon, Joint Managing Director, paid tribute to Aidan Curran as a pioneer of home grown timber, acknowledged his commitment and dedication to the company, and praised his performance as a first class ambassador for Glennon Brothers over the years.
Fellow Joint Managing Director, Pat Glennon, then went on to acknowledge the outstanding contribution of Joe McLoughlin to Glennon Brothers. He spoke in glowing terms of the professionalism, flexibility, and adaptability which Joe has displayed in filling many different roles during his 50 years of service.
Pat Glennon also acknowledged "the legacy of great contributions from people who were no longer with us and who had dedicated their working lives to Glennon Brothers. Without these contributions, Glennon Brothers would not have survived the many challenges it has faced over its 99 years".
The evening concluded with a presentation by the company to each individual to mark their achievement.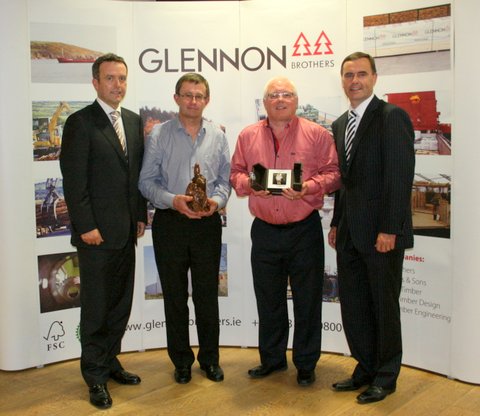 (L to R) Mike Glennon, Joe McLoughlin, Aidan Curran, Pat Glennon