<![if !vml]> <![endif]> News Announcement - 29th March 2010
Windymains Timber welcomes Minister John Moloney
and Consul General of Ireland to Scotland
Windymains Timber, in East Lothian, part of the Glennon Brothers Group, welcomed John Moloney TD Minister of State at the Department of Health and Children; and Cliona Manahan, Consul General of Ireland to Scotland, as part of a trip to Scotland in celebration of St Patrick's Day, organised by Enterprise Ireland.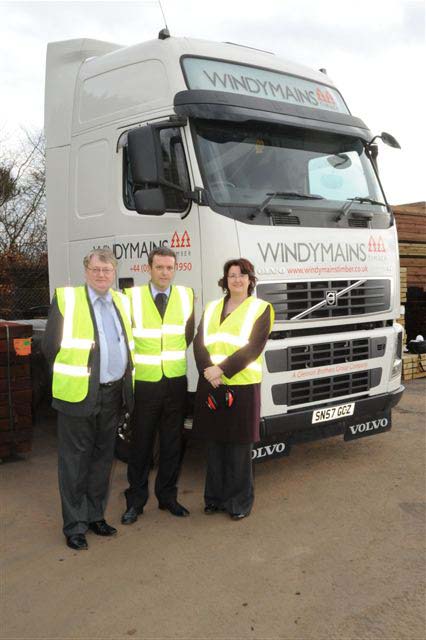 Mike Glennon, joint managing director, Glennon Brothers Group, said: "We're very happy to be involved in the Scottish timber processing sector and are pleased with the success of both Windymains Timber in Humbie and Adam Wilsons in Troon. For this we thank our dedicated staff and the commitment of our long-standing customers."
He continued: "We're delighted to welcome the Minister and the Consul General to visit our Windymains Timber site."
Minister John Moloney, said: "I'd like to congratulate this family business; with over 300 staff working together this demonstrates a visible partnership between Scotland and Ireland."
Cliona Manahan, Consul General of Ireland to Scotland, said: "We see this visit as a signal of how brilliantly Ireland working together with Scotland can realise their talents and skills.
"The Glennon Brothers Group has demonstrated a unique ability right at the outset of the 21st century to demonstrate just how well Ireland and Scotland can develop on these islands and beyond in the international markets."
Windymains Timber is part of the Glennon Brothers Group which since 1913, has been manufacturing high-quality timber products and is now the premier name in the Irish and UK timber processing industry. Through Glennon Brothers plants in Ireland, and Windymains Timber and Adam Wilsons in Scotland, the firm offers a one-stop-shop solution, supplying both the Irish and UK markets with volume products for the construction, pallet wood and fencing industries. This one-stop-shop approach ensures the firm continues to push the boundaries of machinery and technology to produce home grown timber to the highest international standards.
The Glennon Brothers Group is also a leading provider of quality timber frame homes and engineered roof trusses in the UK and Ireland through Alexander Timber Design based in Troon, and Dempsey Timber Engineering (DTE) based in Arklow.

The Group is committed to reducing its impact on the environment and has gained Forest Stewardship Council (FSC) certification for its products across all timber processing sites that they are sourced from sustainably managed forests.