<![if !vml]> <![endif]> News Announcement - 1st June 2010
Glennon Brothers welcome Minister for Agriculture to Fermoy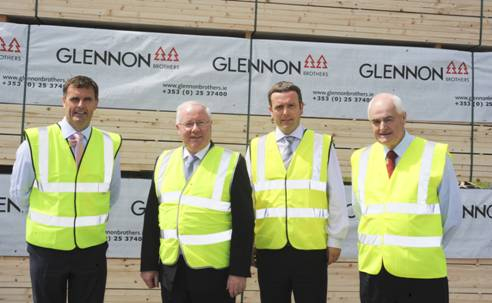 From left to Right: Pat Glennon, Brendan Smith, Minister for Agriculture, Mike Glennon &
Ned O'Keefe, TD
Timber processing firm, Glennon Brothers, welcomed the Minister for Agriculture - Brendan Smith - to its Fermoy plant last Friday (28th May 2010).
During his visit, the Minister met with Glennon Brothers joint managing directors Mike and Pat Glennon and took part in a mill tour at the site. He congratulated the business on securing a contract worth €1.5M to deliver the first ever shipment of home-grown timber to France earlier this year.
Pat Glennon, joint managing director, Glennon Brothers Group, said: "We were delighted to welcome the Minister Brendan Smith to our plant in Fermoy. The minister is a key player in the Irish forestry industry, and we are looking forward to working with him and his department to address the difficult economic challenges that lie ahead in our sector."
The Minister acknowledged the importance of the sawmill sector and said: "The Irish sawmilling industry is modern, efficient and customer focussed; and through innovation and marketing, this sector is securing increased export market share, particularly in the UK."
Concluding his visit, Minister Smith commented that an adequate supply of timber is a crucial factor for the sawmills, especially in view of the demand created by the emerging biomass sector. He added that the extraction of timber from the existing forest estate and new planting in the future are necessary to meet these demands in both the short and long term.
From their roots operating a single water-powered sawmill in County Longford nearly 100 years ago, three generations of Glennon Brothers have steadily developed a customer-focused business committed to the responsible manufacture of quality timber products. Glennon Brothers is now the premier name in the Irish and UK timber processing industry. Through its plants in Ireland and Scotland, the firm offers a one-stop-shop solution, supplying both the Irish and UK markets with products for the construction, pallet wood and fencing industries. This one-stop-shop approach ensures the firm continues to push the boundaries of machinery and technology to produce home grown timber to the highest international standards.
The Glennon Brothers Group is also a leading provider of quality timber frame homes and engineered roof trusses in the UK and Ireland through Alexander Timber Design based in Troon, and Dempsey Timber Engineering (DTE) based in Arklow.
The Group is committed to reducing its impact on the environment and has gained Forest Stewardship Council (FSC) certification for its products across all timber processing sites that they are sourced from sustainably managed forests.