GOOD NEIGHBOURS - TIMBER TRADE JOURNAL ARTICLE
14th October 2014
Irish wood processors remain committed to trading with their closest neighbour, the UK. Sally Spencer reports
The upturn in the UK economy has been a real boon for Irish sawmills, many of which regard their closest neighbour as the key export destination for their products. So much so that, for Glennon Brothers, for example, there is little differentiation in market terms.
"We believe the sawn timber market has consolidated into a 'British Isles' market," said Mike Glennon, Glennon Brothers' joint managing director. "You can see that with the Grafton Group, and Saint-Gobain, with their interests in the UK and Ireland. The buying groups, like Fortis, and other independents, also have links either side of the water, so we treat it as one market"
Glennon Brothers is unique among Irish sawmillers in that it has major processing capability in both Ireland and Scotland - in fact it now produces more timber and employs more staff in the UK than it does in Ireland and it's these facts, said the company, that really underpin its commitment to the UK market.
"The UK is our key export market and is obviously the natural market for our Scottish mills," said Mr Glennon, adding that the company had doubled its exports from Ireland to the UK in recent years. The company also exports to France and since its first trial shipment in 2009, €15m of product from its Irish and Scottish mills has been shipped there
In 2005 when the time was right for growth, the company acquired the Windymains Timber sawmilling business near Edinburgh, and then three years later it bought Adam Wilson & Sons in Troon, which, at the time, was the fourth biggest sawmill in the UK. And with that came a timber frame manufacturing division, Alexanders Timber Design.
Glennon Brothers is a typical family business and the customer is at the heart of what they do. They also passionately believe in the value of long-term relationships. The company is a firm believer in investing in people and technology to improve product quality and customer service and to reduce its unit cost of production, so significant investment at the Scottish mills followed swiftly
A state-of-the-art planing line was installed at Adam Wilson and treatment facilities installed at both Adam Wilson and Windymains. The former has an annual capacity of over 160,000m³ of sawn timber, focused on KD construction timber but also producing fencing and packaging. Windymains' sawn timber capacity is close to 100,000m³ of fencing and treated carassing.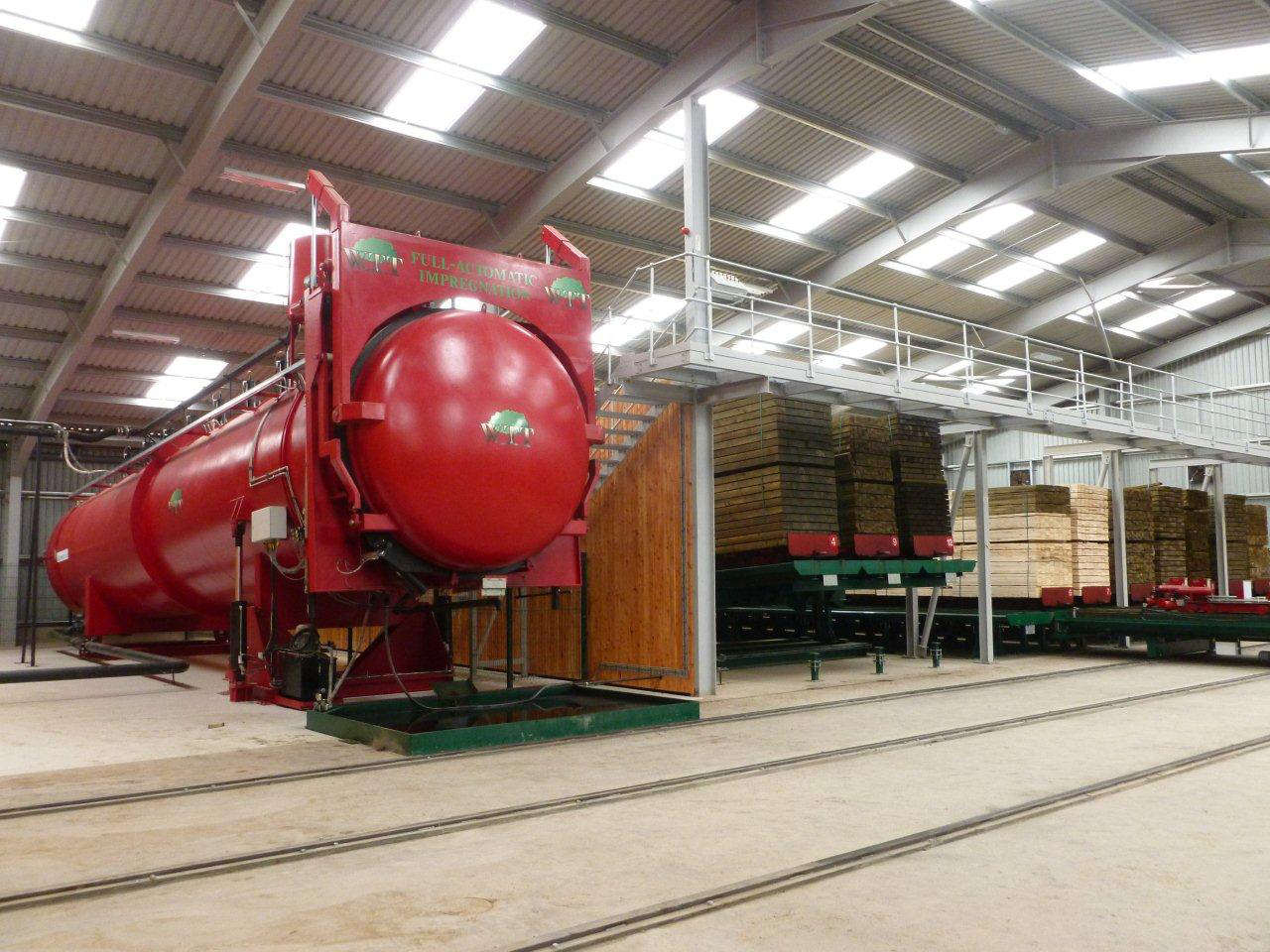 Glennon Brothers installed new treatment facilities at Windymains Timber
Investment in Ireland has also continued apace, with some €60m being invested in the company's Irish operations since 1997. The latest tranche of investment, a purpose-built stress grading and planing facility featuring a state-of-the-art USNR lineal grader and top of the range Ledinek planer, came with a price tag of around €13m.
The grader is the first of its kind in Europe and takes pinpoint accuracy measurements every 2.5mm at speeds of 650m/min (top speed is 1000m/min), requiring 24 computers to process the information.
In combination with the Ledinek planer, with its feed speeds of 350m/min, new board sorting and cross-cutting facilities, the investment further enhances Glennon Brothers' ability to supply the UK market.
In 2013 Glennon Brothers' Irish and Scottish mills combined sold over 460,000m³ of timber - up substantially on 2012. In turnover terms, this increase in volume took the company comfortably over the €100m milestone to around €108m.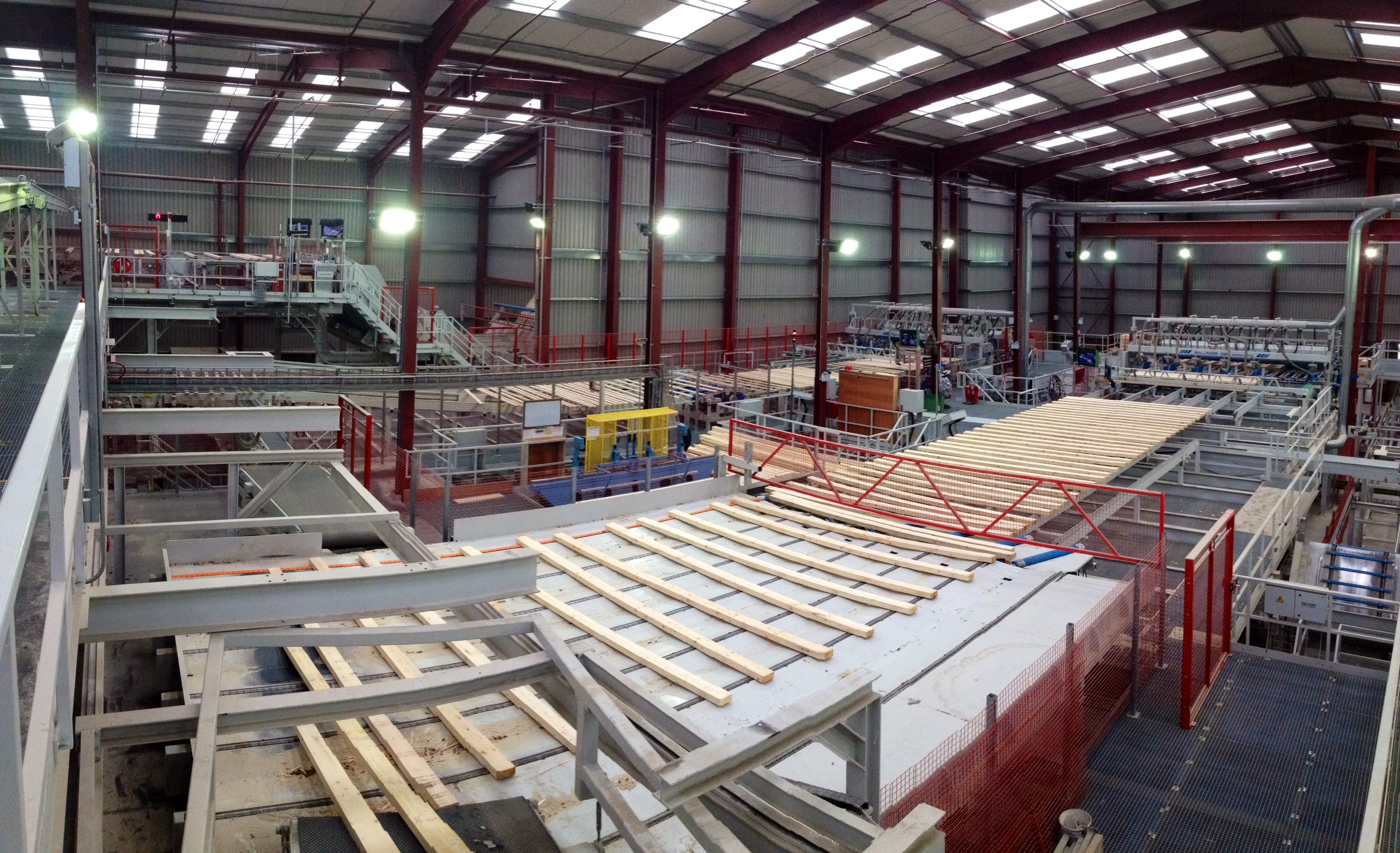 Glennon Brothers' new planing and grading line represents a €13m investment
This is now 'managed' via a €750,000 Epicor ERP software system, which has just become fully operational and integrates systems across the group
"Sharing the one platform improves customer service and stock visibility and is a huge step forward for us, enabling us to deliver a one-stop shop solution for sawn softwood in the British Isles," said Mr Glennon. "From Donegal to Aberdeen, and Kerry to Kent, we would like to sincerely thank our customers, who believed in us and supported us. Without them, none of our success would have been possible"