<![if !vml]> <![endif]> News Announcement - 11th Feb 2010
Glennon Brothers secures industry first -
Home-grown timber reaches French shores
Premier timber processing firm Glennon Brothers has secured a contract to deliver the first ever shipments of home-grown timber to France in a €1.5 million deal. This deal represents a first in both a UK and Irish context.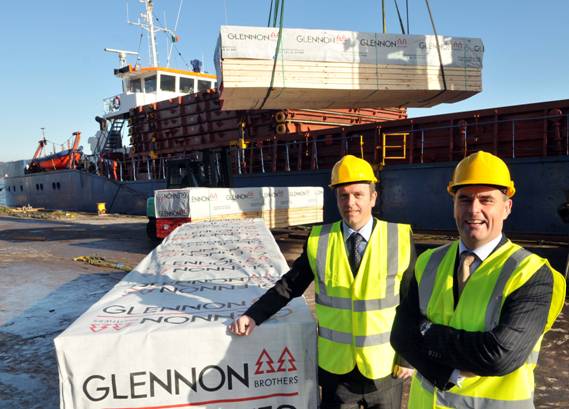 L-R. Mike and Pat Glennon, harbour-side in Youghal with the ship being loaded with timber headed for France.
Mike Glennon, joint managing director, Glennon Brothers, said: "Through our strong industry connections and our reputation as a quality timber provider, we secured this ground-breaking deal to supply an initial five shipments from our bases across Ireland and Scotland."
The shipments, leaving from Youghal in County Cork, Ireland and Troon in Ayrshire, Scotland respectively, will be supplying predominantly kiln-dried strength graded material primarily for the house-building industry.
Glennon continues: "Traditionally home grown timber has only been supplied into the Irish and UK markets. We are proud that our products satisfy the needs of European countries demanding high quality."
Tony Killeen, minister of state at the Department of Agriculture, Fisheries and Food (with special responsibility for Fisheries and Forestry) said: "This breakthrough by Glennon Brothers illustrates what Irish companies can achieve even in the most challenging circumstances. The timber industry was hard hit by the dramatic fall off in the construction sector and by the fall of the value of sterling. However Glennon Brothers have proven that new markets can be found for high quality indigenous Irish products."
Environment Minister Roseanna Cunningham, MSP, said: "I'm delighted to see these shipments of Scottish sawn timber from the port of Troon to this new market in France. It demonstrates that Scotland produces a quality product which is very much in demand and shows that our modern forest industry is continuing to thrive despite the economic downturn."
Since 1913, Glennon Brothers has been manufacturing high-quality timber products and is now the premier name in the Irish and UK timber processing industry. Through Glennon Brothers plants in Ireland, and Windymains Timber and Adam Wilsons in Scotland, the firm offers a one-stop-shop solution, supplying both the Irish and UK markets with volume products for the construction, pallet wood and fencing industries. This one-stop-shop approach ensures the firm continues to push the boundaries of machinery and technology to produce home grown timber to the highest international standards.
Glennon Brothers is committed to reducing its impact on the environment and has gained Forest Stewardship Council (FSC) certification for its products across all timber processing sites that they are sourced from sustainably managed forests.