Glennon Brothers welcomes Minister Pat Breen to Windymains.
15th March 2018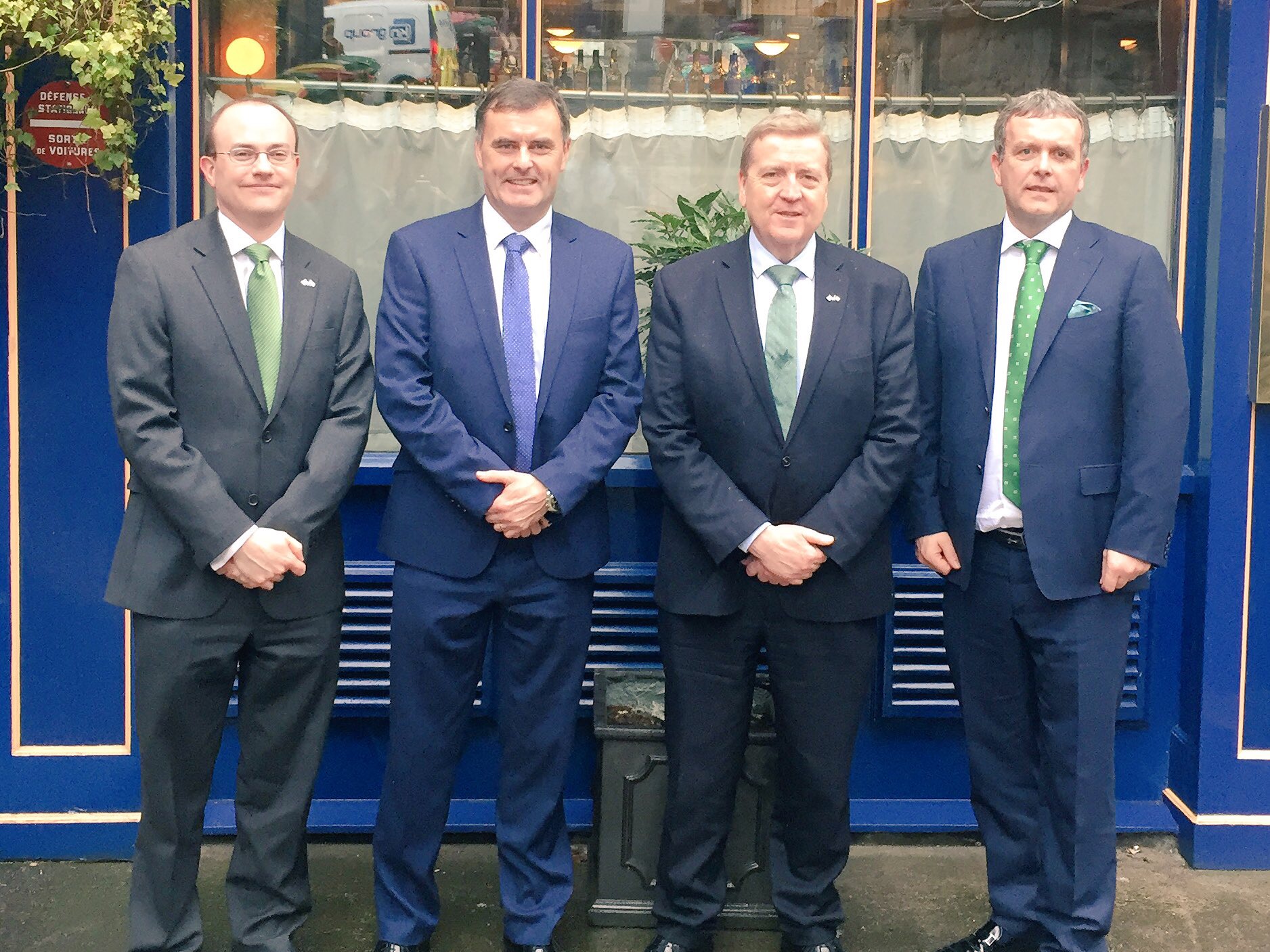 Left to right: Mark Hanniffy, Pat Glennon, Minister Pat Breen & Mike Glennon
Leading timber processing firm, Glennon Brothers welcomed Minister Pat Breen, and Mark Hanniffy, Consul General of Ireland to Scotland, to its Windymains site, as part of a trip to Scotland in celebration of St Patrick's Day.
During the visit, the Minister met with Joint Managing Directors, Mike and Pat Glennon, and received a tour of the timber processing facility.
Mike Glennon, said: " The Ministers visit allowed us to highlight the threat Brexit poses to the future development of the Irish Forestry sector. The sector is forecast to significantly increase its output, over the next decade. This growth, is heavily dependent, on growing the presence of Irish timber, in the UK market. Over half of the Irish sawmills output is exported, and 95% of those exports go to the UK. Unfettered access to the UK market is critical if the sector is to fulfil its potential"
Pat Glennon said "We were delighted to welcome the Minister and the Consul General to visit our Windymains site, to see firsthand the recent investments we have made in state of the art manufacturing technology. The visit also allowed us to highlight the importance of the Irish forest products sector, which employs over 12,000 people, and contributes €2.3 billion annually to the Irish economy.
Minister Breen said: "I had the pleasure of visiting the Glennon Brothers facility in Humbie today. Companies like Glennon Brothers have built their reputation and customer base over decades. The commitment they show their customers and workforce in Ireland, Scotland and across the UK is a one example of the many Irish companies who tell me that this hard won business will not be sacrificed by current uncertainties. I am enormously impressed by this commitment as they continue to invest in growing both their Scottish presence and exports from Ireland."
Consul General Hanniffy said: "Glennon Brothers is an important part of an Irish-Scottish business relationship which is very important to both sides and is continuing to strengthen. They are a great example of a company that makes a very positive contribution to both economies, and their growth is an illustration of what Scottish-Irish economic cooperation can achieve. "
Deirdre McPartlin, UK Manager Enterprise Ireland said "Enterprise Ireland clients employ 80,000 people in the UK providing economic and social well-being to communities across the UK. Glennon Brothers is a strong example of one such company investing in Scotland while continuing to grow exports to the UK from Ireland. The management team has proactively identified the Brexit challenges for their business and we will work closely with them around their innovation, product and market agenda to ensure they continue to thrive in the coming years."