First Timber Landing Craft Launched at Glennon Brothers Troon
3rd November 2014
Leading timber processing firm Glennon Brothers, are delighted to announce the launch of the first landing craft, timber transport service to the west coast of Scotland. The "Red Princess" was launched by Mr. Paul Wheelhouse, MSP, Minister for Environment and Climate Change, at the Glennon Brothers site (formerly Adam Wilson & Sons), in the port of Troon, on Monday November 3rd 2014.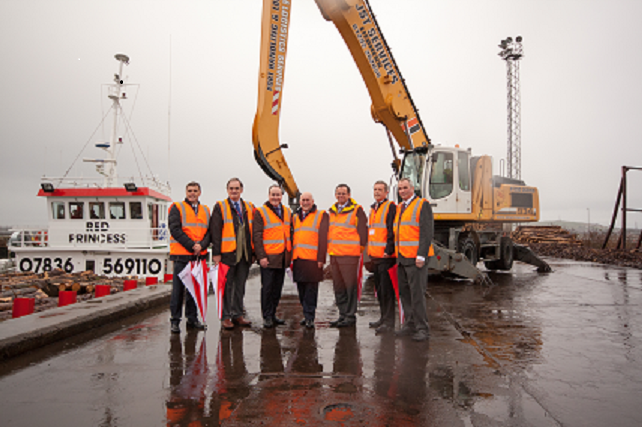 Left to right: Pat Glennon (Glennon Brothers), George McRobbie (UPM Tilhill), Minister Paul Wheelhouse MSP (Minister for Environment and Climate Change), John Scott MSP, Peter Whitfield (UPM Tilhill), Mike Glennon (Glennon Brothers), Robin Taylor (Troon Tug Company).
Minister Wheelhouse said "This is an innovative and practical solution to a challenging problem and the Scottish Government is delighted to support it.
"It is a classic forestry solution, delivering green growth - it adds economic value by accessing more timber for the market and putting money into island and coastal economies, while contributing to the Scottish Government's carbon reduction target."
Pat Glennon, Glennon Brothers stated "Glennon Brothers is delighted to be involved in the Red Princess initiative, in partnership with the UPM Tilhill, and the Troon Tug Company. Enormous time and energy has been invested in successfully implementing this innovative service over the last eighteen months. As we all know, continuity of raw material supply is fundamental, to the growth of the sector, and we very much hope, the vessel, will become a key part, of our long term log supply, here at Troon. The on-going support, of the Strategic Timber Transport Scheme, Forestry Commission Scotland, and various private landowners, will be essential, in making this happen."
Mike Glennon, Glennon Brothers added "This initiative supports Glennon Brothers approach to minimising the impact on the environment. Logs will be delivered from the coast and islands of Scotland to be processed in our sawmill in Troon. Some of this finished timber will then cross the road to our engineered timber facility, Alexanders Timber Design (ATD), to be incorporated into quality timber frame homes, resulting in an end product with an incredibly low carbon footprint.
The logs delivered by the Red Princess will also enhance Glennon Brothers capability to offer a one stop shop solution for sawn softwood in the British Isles".
The 750-tonne capacity vessel used to take tourists and locals through the beautiful Ionian Sea around Corfu, but has been refurbished and renamed "Red Princess". The introduction of this first landing craft, will provide a practical, innovative solution, for otherwise inaccessible coastal forests on the west coast of Scotland. The Red Princess will transport logs from five coastal forest locations within the Firth of Clyde, directly to the port of Troon. The initiative has been supported by the Scottish Governments Strategic Timber Transport Scheme and will transport 118,500 tonnes of logs from the five sites over the next two years.