GLENNON BROTHERS NAMED INDUSTRY ENTREPRENEUR OF THE YEAR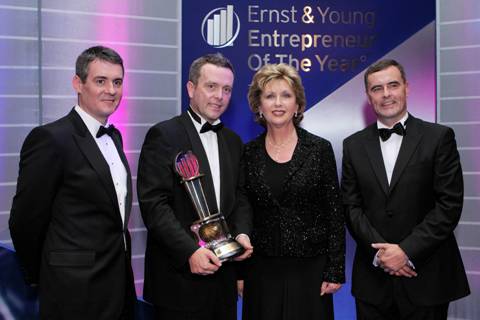 President Mary McAleese with (from left): Frank O Keeffe of Ernst & Young, Mike Glennon and Pat Glennon
Longford brothers, Mike and Pat Glennon of timber processing firm, Glennon Brothers, have been named Industry Entrepreneur of the Year at the coveted 2010 Ernst & Young Entrepreneur of the Year Awards.
The Irish Ernst & Young programme, now in its 13th year, has been identified as one of the strongest worldwide and received over 120 nominations, a reflection of the strength of the enterprise culture that exists today.
The 11-strong panel of judges had chosen eight companies in each of three categories – international, industry and emerging – with Glennon Brothers coming out on top in the industry category.
Commenting on receiving their award, the Glennon Brothers said: "We are absolutely thrilled, stunned, and honoured to receive such a terrific award on behalf of the hardworking, dedicated, and fabulous team of people in Longford, Fermoy, Arklow, Troon, and Edinburgh that make up Glennon Brothers. This team has faced tremendous challenges over the last couple of years as some of their traditional markets collapsed and have worked incredibly hard to find innovative solutions.
We would like to thank our very loyal customers, who have supported us through the highs and lows of our sector, because ultimately without them we wouldn't be here. We would also like to thank Ernst & Young, Enterprise Ireland, Intertrade Ireland, and the various sponsors for their continuing investment in this programme.
Our company dates back to 1913 and has a legacy of great contributions from great people who are not with us today, not least our father and mother who gave us the business acumen we have today. Our father Paddy was a great pioneer of home grown business and was at the helm of the business for over 40 years, supported by his brother, Mick I hope they and the many people, who worked there, are as proud as we are of our great organisation."
Glennon Brothers is the premier name in the Irish and UK timber processing industry. Through its plants in Ireland and Scotland, the firm offers a one-stop-shop solution, supplying both the Irish and UK markets with products for the construction, pallet wood and fencing industries.
With facilities in Longford, Fermoy, Co. Cork, Arklow, Co. Wicklow and Troon and Humbie, near Edinburgh in Scotland, The Glennon Brothers Group employs over 330 people directly and another 165 people indirectly in the areas of harvesting and haulage.
The Glennon Brothers Group is also a leading provider of quality timber frame homes and engineered roof trusses in Ireland and the UK, through Dempsey Timber Engineering (DTE) based in Arklow and Alexander Timber Design based in Troon.
The Group is committed to reducing its impact on the environment and has gained Forest Stewardship Council (FSC) certification for its products across all timber processing sites ensuring that they are sourced from sustainably managed forests.