Glennon Brother is guest speaker at Coillte FSC event
28/03/2012
Mike Glennon, of Ireland and UK timber processing firm, Glennon Brothers, was a guest speaker at a recent Coillte event to celebrate ten years of FSC certification. The event, hosted by Kevin McCloud, presenter of Channel 4's 'Grand Designs', took place in Dublin's Aviva Stadium, on Monday the 6th February 2012.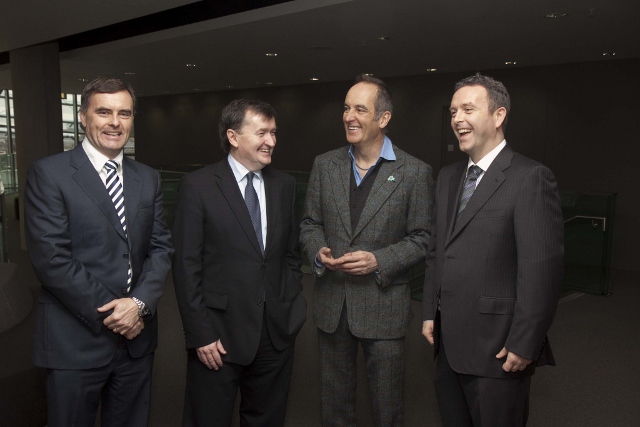 Pat Glennon, David Gunning, Kevin McCloud and Mike Glennon
The event saw Mike Glennon speak about the importance of Forest Stewardship Council certification to his own business, the wider Irish sawmilling sector, and the significant challenges facing the sector.
Mike Glennon said, "I would like to congratulate, David Gunning, and the team at Coillte, on reaching the key milestone, of 10 years of independent certification, by the Forest Stewardship Council.
Our sector faces a number of significant challenges and we need an inclusive debate, around the rumoured sale of Coillte felling rights, proposed changes to harvesting and haulage, and overcapacity within the industry. We look forward to working with Minister Coveney, and Coillte, to continue the growth and development of a world class forestry sector in Ireland.
Glennon Brothers is now the premier name in the Irish and UK timber processing industry. Through its plants in Ireland and Scotland, the firm offers a one-stop-shop solution, supplying both the Irish and UK markets with products for the construction, pallet wood and fencing industries.
The Glennon Brothers Group is also a leading provider of quality timber frame homes and engineered roof trusses in the UK and Ireland through Alexander Timber Design based in Troon, and Dempsey Timber Engineering (DTE) based in Arklow.
The Group is committed to reducing its impact on the environment and has gained Forest Stewardship Council (FSC) certification for its products across all timber processing sites that they are sourced from sustainably managed forests.